Gotchiverse, Locked and Loaded - Get Ready to Play!
The Gotchiverse is coming on March 31st, 2022! Our Aapegotchis are prepared - here's an explainer for you to get ready, as well!
Gotchiverse, the Aavegotchi metaverse game is set to open its portals on March 31st, 2022! BlackPool's Aapegotchis are getting ready, so here's an article to prepare your arrival to the Gotchiverse!
First, let's have a look at the official cinematic trailer to get an idea of the game 👀:
Given the extensive length of this explainer, you can skip to sections that interest you by clicking on the table of contents below:
I - WHAT IS THE GOTCHIVERSE?
The Gotchiverse is a metaverse where Aavegotchis can meet up, socialise, play together and farm tokens! The more time you spend with your Gotchis and frens in the Gotchiverse, the more you earn!
👻 What is an Aavegotchi by the way? 👻 Here's short video that explains what a Gotchi is:
So far, we know that the gameplay will feature these elements:
---
RPG Elements
The Gotchis have 6 traits that will have an impact on their play style, giving them strengths and weaknesses: Energy, Aggression, Spookiness, Brain size, Eye shape and Eye colour.
For a more in-depth explanation, have a look at this link.
---
Cooperative Gameplay
The Gotchiverse is meant to be a social experience, where you'll meet up with your frens and team up on various activities.
If your Gotchi is part of a Guild, you'll be able partake in the Communal Channeling to collect Alchemica as a group. The more the merrier, or should I say, the more, the richer as you can multiply your earnings when you coordinate all together.
The Gotchi Lodge will be the central meeting point for the members of the guild to gather and socialise.
---
Map Exploration
From time to time, you'll be able to wander around the Gotchiverse and find Alchemica spilled here and there. Just glide over it to collect, and it will find its way into your pocket. Your Gotchi can only carry up to a certain amount, so once your pockets are full, you have to go and deposit the Alchemica to a safe point. The wormholes are located in numerous places across the map.
---
Alchemica Farming and Collecting
One of the many goals of the Gotchi roaming the Gotchiverse is to collect the 4 Gotchu Alchemica ERC20s: FUD, FOMO, ALPHA and KEK.
Each of the Gotchu Alchemica have varying total supply, making some scarcer than others.
These tokens have real value and can be exchanged for other cryptocurrencies using a decentralised exchange, but most importantly - they have different utilities in the game. As an example, you can use them to craft and update installations on your land, you can also choose to trade them in the GAX, the GOTCHU ALCHEMICA EXCHANGE, you can also pair them with GHST there to earn the GLTR token.
"I want to know more about GLTR token"
The GLTR Token isn't designed to be a governance token, it's focused on strong in-game utility. It is earned by being a liquidity provider for any GHST/Alchemica pair you pool in the GAX.
You can:
Burn it to reduce time and speed up installation crafting and upgrading ⇒ get to higher levels in the game faster.
Use it to bid on wearable crest auctions, so your Guild can perform Communal Channeling.
Burn it to speed up the time for your Guild's next Communal Channeling.
💡Once spent in game, the GLTR token is burned.
💡Here are the 4 ways to farm and collect the Alchemicas:
1. Alchemical Channeling
Alchemical Channeling is like UBI for your Gotchi: once a day, your Gotchi can receive a portion of Alchemica by performing the Alchemical Channeling at an Aaltar. The higher the kinship of your Gotchi, the higher your portion will be.
Note that this Alchemica comes directly from the Gotchiverse ether and is not harvested from a parcel.
Click here for a deeper explanation.
2. Communal Channeling
Guild Channeling or Communal Channeling is a ritual that members of your team / Guild can do together to summon Alchemica to rain down nearby in the Gotchiverse. Initially it will be available once a week, then the time between two Communal Channeling events will reduce as the Gotchi Lodge is upgraded.
Like the Alchemical Channeling, these are not harvested from a parcel but come from the Gotchiverse ether.
Click here for a deeper explanation.
3. Exploring the map
Gotchis like to roam the Gotchiverse, and while doing so, they are likely to stumble upon spilled Alchemica on the ground. They can pick it up and deposit it in one of the many saving points.
When performing various channeling, some Alchemica can be spilled over. It is recommended to play in teams of at least 2 Gotchis in order to maximise one's earnings. 👻 👻
4. Farming from underground
Farming will be available as soon as it becomes possible to craft and place installations on your parcel: Haarvesters and Reservoirs will facilitate Alchemica gradual extraction and holding from the parcel.
A Gotchi will need to empty the Reservoir as soon as it is full, otherwise the Haarvester won't be able to continue extracting. Watch out for spillovers from Reservoirs! 👀
Crafting and Base Building
Once you get Gotchus Alchemica, you can use them to craft Installations and Aestheticas in-game on your REALM. You can also upgrade your installations with them. The higher the level of your installation, the more effective it becomes. The GLTR token can also be used to speed up the crafting process.
By default, your REALM comes with an Aaltar Level 1. In the beginning, it will enable you to do the Alchemical Channeling once a day.
But you can also build a:
Haarvester ⇒ to harvest Alchemica from your land's underground
Reservoir ⇒ to hold all the Alchemica you harvested
Gotchi Lodge ⇒ the social hub of your guild
Waal ⇒ a defensive structure
Towers ⇒ a defensive structure
Aestheticas ⇒ cosmetic pieces to decorate and flex ;)
...more to come!
You can find the Recipe Book for crafting here.
---
II - HOW TO GET STARTED
To play in the Gotchiverse, you will need a decent laptop and a cryptocurrency wallet that is connected to the Polygon Network.
MetaMask is one of the most used Web3 wallets. MATIC tokens are also needed to pay for any transactions you may have to do, like withdrawing your earnings. If you're not yet completely comfortable with this process, have a look at the tutorial below!
Show me how to set up MetaMask
First you'll need to download and install MetaMask. Always use this official link in order to avoid scams. Chrome or Firefox browsers are preferred. For more info on what MetaMask is, check this video. Be sure to check the MetaMask FAQ if you have any question!
Create a password (use a unique and strong password)
Agree to the Terms
Reveal the Secret Backup Phrase (or Seed phrase), write it down and keep it carefully stored. (Remember that if you lose it or someone steals it, you might lose all the money stored and linked to that address!)
In the next page, confirm your Secret Backup Phrase in the right order.
👏Congratulations, you're done installing MetaMask! If you want to copy your address, click on the account.👏
Once your MetaMask is set up, the next step is to connect to the Polygon Network and get yourself some MATIC to play.
Polygon Setup
Connect to the Polygon Network. MetaMask will be set to the Ethereum network by default, so you'll need to switch networks. One easy way to do so is by visiting Aavegotchi.com, clicking "enter the App" and selecting "browser wallet". The website will ask you to connect to Polygon and will ask for your approval while setting up the network's RPC.
Get MATIC to pay for transactions on the blockchain. Buying stuff in the Baazaar marketplace, renting an Aavegotchi or withdrawing your earnings, all happen on-chain and require MATIC to process the transaction. You can purchase MATIC from any exchange like Binance or Kraken.
Don't forget you can check your balances and any transaction you did on Polygonscan. It's a pretty useful tool!
⚠️
Do not play with an address from an exchange like Binance or Kraken!
Now that you have a laptop, a browser and a Web3 Wallet, you're all set, so LFG! 👻
---
Getting a Gotchi from the Lending
As a member of the BlackPool Aapegotchis 🦍, you'll be able to rent your Gotchi from us and our players that own Gotchis.
Note that rewards can be claimed at any time you like, you don't need to wait for the rental contract to end.
Before we say goodbye, here's the latest video from the Aavegotchi team, with Gotchi Lending explained in detail, real game footage and many alphas to dive into!
See you in the Gotchiverse, frens!
---
III - ADDITIONAL RESOURCES
Official Website:
Gotchiverse Website:
Official Wiki:
The Curve Blog: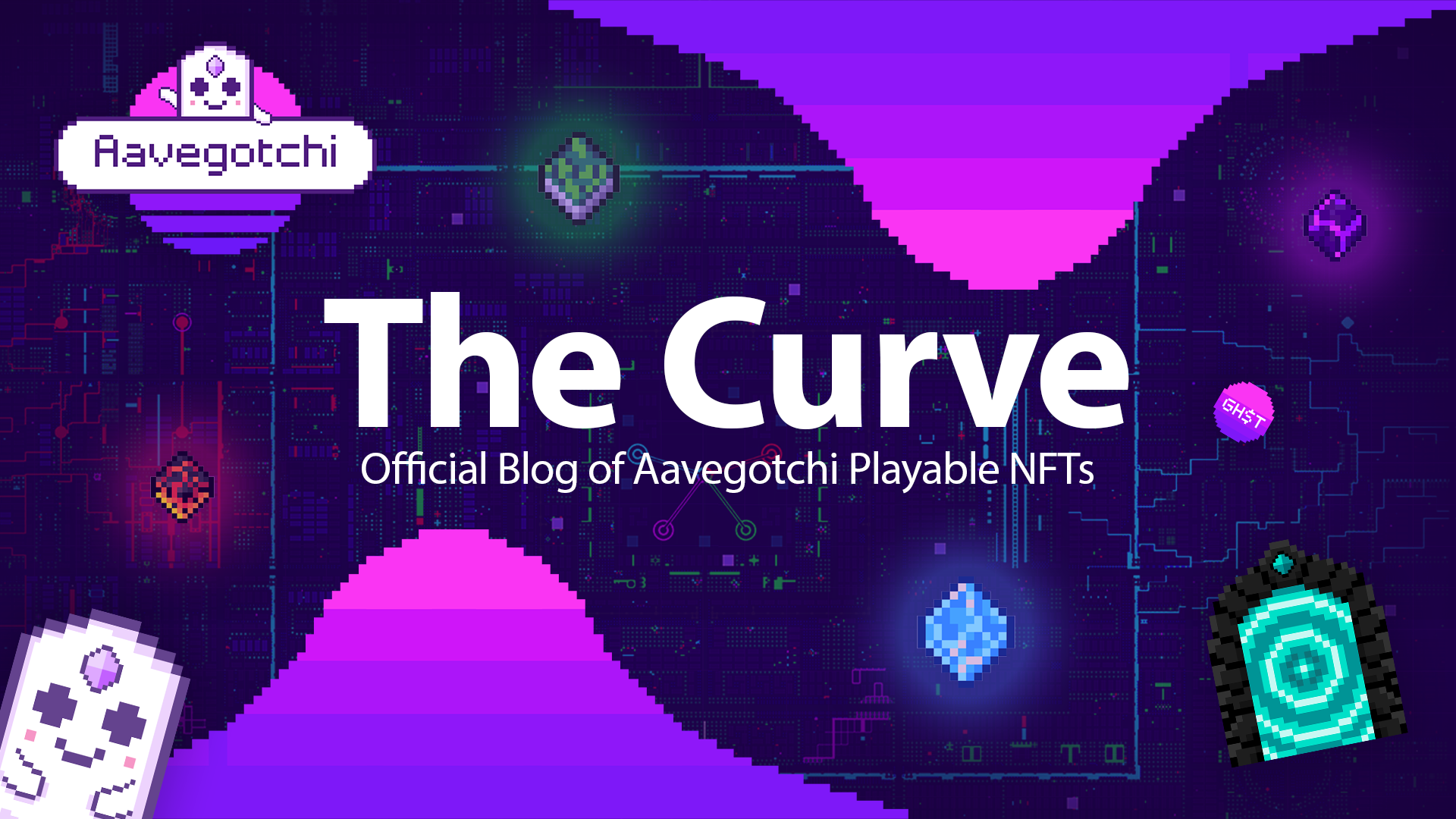 Medium:
Also, don't forget to check out the Aavegotchi official YouTube channel for more alpha!
---
Community Built Tools
---
IV - JOIN BLACKPOOL'S GUILD ON AAVEGOTCHI
👻
If you wish to join our cool community of Aapegotchis, please fill in the form by clicking here!
---
BlackPool Newsletter
Join the newsletter to receive the latest updates in your inbox.
---